ZHider
adalah utilitas kecil yang mudah digunakan dan langsung dapat menyembunyikan jendela (
program
) dengan keystroke / hotkey cepat. Jendela akan tersembunyi sepenuhnya dari
desktop
dan
task bar
tanpa meninggalkan jejak. Jendela tersembunyi dapat dengan mudah dibawa kembali ke tampilan dengan keystroke lain. Berguna untuk berbagai keperluan praktis termasuk menghapus sesuatu yang menjengkelkan, melindungi privasi jika sobat sedang membuka aplikasi rahasia dan tiba-tiba ada seseorang yang kebetulan lewat, bahkan dapat menyembunyikan jendela dari server (
billing
).
(petersouza)
Fiture lainnya yang ada pada aplikasi ZHider
Global hotkeys arranged for discreet use and with keystroke combinations that allow you use from virtually any keyboard (101-keys, remote connections, etc.).
Instant hide-and-add feature allows you to hide a window instantly and keep it in a list of windows to toggle hide/unhide (with another hotkey).
Launches and operates silently and with great stealth: no windows, sounds, or even system tray icon is visible.
List mode displays a fully-detailed list of all windows added to the list and a feature-rich interface for hiding, unhiding, and removing windows. You can even view the class name and window ID of each window!
No bulky install / uninstall software package. You can grab-and-go, launch from a disk, etc. without ever modifying the Windows system registry, installing files to system directories, or risking detection by modifying the existing file system.
The program file can be renamed for complete discretion.
Tiny size makes the program fast to load and easy to hide.
Includes optional Task Manager stealth, masking not only itself but any hidden applications from detection
Allows command-line instructions for launching processes silently with full support for UNC-coded network paths and environment variable expansion
Screenshoot :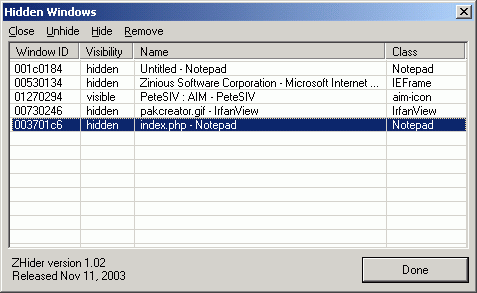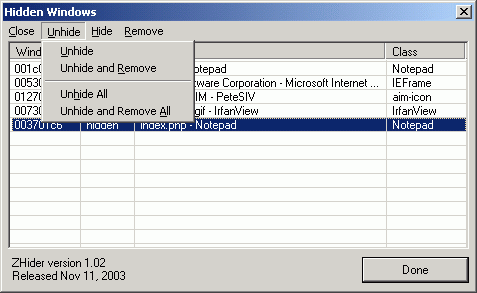 Memanipulasi dan Menyembunyikan Billing Warnet dengan ZHider
Pastikan selain box/bilik yang sobat tempati masih ada box lain yang kosong. biar aman.
Usahakan cari tempat yang jauh dari op, supaya gak ketahuan box sobat kosong apa nggak.
Nyalakan komputer dihadapan sobat bila masih dalam keadaan mati.
Saat masuk login screen, login aja seperti biasa.
Jalankan ZHider yang sudah disiapkan. download ada di bawah.
Setelah ZHider dijalankan langsung aja logout. sampai ketempat login semula.
Nah, di login screen ini sobat mulai aksi yang mendebarkan. Tekan Ctrl+Alt+Z
Dan binggo, login screen billing tadi sudah menghilang.
Browsinglah sepuasnya, tapi tetap pastikan ada box lain yang kosong. kan aneh kalau ada yang masuk warnet, dia lihat udah penuh. Padahal di billing server kelihatan masih ada yang belum login.
Kalo sudah puass tekan Ctrl+Alt+X untuk memunculkan kembali login screen yang tadi menghilang entah kemana.
Login seperti biasa dan browsing beberapa menit sampai penunjuk tarif sampai ke angka yang sobat kehendaki. Ini supaya gak dicurigai aja.
Logout. lalu bayar tarif dengan muka yang polos.
Download Aplikasi Utility ZHider
Download ZHider version 2.00 (82 KB)
Download ZHider version 1.02 (35 KB)